Project Coordinator
Scott Laserow
Business Advisor
Alan Kerzner
Brand Advisors
Alex Cahanap
Erik Oberholzer
Antoinette Johnson
ReRooted is a food truck that distributes fresh food from grocery stores to food deserts. Its mobility gives it greater access to food-insecure neighborhoods, and its integration with an app makes it easily accessible for a wide user base.

The brief
Design a mobile app for a delivery truck. Include collateral: packaging, wayfinding, merchandise, and social media.

The Problem

America wastes about 1/3 of its food, totaling about 43 billion pounds of food in landfills. Grocery stores are responsible for 10% of that, with one of the main culprits being the produce and fresh food departments. This waste takes place through the whole chain of production, from farms and packing plants to storefronts. Much of this food is perfectly safe to eat and gets discarded because of minor aesthetic defects.

Meanwhile, millions of Americans are living in food deserts, or areas where people live below the poverty line & cannot access fresh food. Food deserts impact mostly urban communities, especially communities of color. Limited access to fresh food can cause health issues, harm academic performance, and overall be an obstacle to economic mobility. Millions of Americans have a clear need for food that grocery stores are just throwing away – so how could a design solution connect the supply with the demand?

Research outcomes

Research for ReRooted was an ongoing process that began with the development of the business model and continued to the brand. Research included a literature review and competitor review, empathy mapping, and interviews & consultations with industry experts (Pam Rainey of Philabundance, Erik Oberholzer of Cohere).


After conducting research, it was clear that mobility could be a game changer for increasing food access in Philadelphia. While organizations like Philabundance and Sharing Excess have delivery initiatives across the city, food pantries can still be few and far between, and there is a major opportunity for more inroads to be made into food-insecure neighborhoods. In areas where developing a storefront might be difficult, a mobile truck could be the perfect solution.
The Process

I chose to create a solution that is mobile and could specifically target locations in Philadelphia with limited food access. ReRooted adapts the food-subscription method seen in community-supported agriculture (CSAs) for a social impact business model.

The biggest design challenge while working on the ReRooted brand was adapting the project to fit a limited budget and an ever-changing product repertoire. Since the business model is focused on social impact more than profit, it was assumed that little money would be allocated to the design. Additionally, the produce that ReRooted had in stock throughout the seasons would constantly change, meaning that creating new designs for every new fruit or vegetable would be practically and financially unrealistic. Budget constraints also meant the brand couldn't include too many elaborate die-cuts, sublimated-print packages, or custom designs.
The ReRooted business model hinges around a delivery truck that redistributes produce to "bus stops" located in urban food deserts. Users can use the app to build an order, reserve items for pickup, choose their nearest bus stop, and track their orders. Produce will be distributed using need-based sliding scale pricing. Vouchers & discounts will be distributed within communities – at schools, churches, health centers, etc. The truck will accept SNAP/EBT and most of its repertoire will be SNAP/EBT eligible.
The final product

Brand

The ReRooted brand uses bold colors and type to create striking visuals that reference nature and fresh food. Bold reds and yellows are designed to be visually enticing, while greens and purples separate the brand from fast-food branding traditions.

The "teardrop" shape is a central aspect of the brand, referencing both a leaf and a map point. Rounded typography gives the brand a friendly, delicious appearance and is paired with Lexend, a typeface designed to maximize legibility.
App
The ReRooted app is the centerpiece of the brand, allowing customers to place orders and track the delivery truck. The interface is designed to be friendly, humanistic, and visually striking. UI elements reference the "teardrop" brand shape, creating an interface that is visually unexpected while remaining intuitive and easy to use.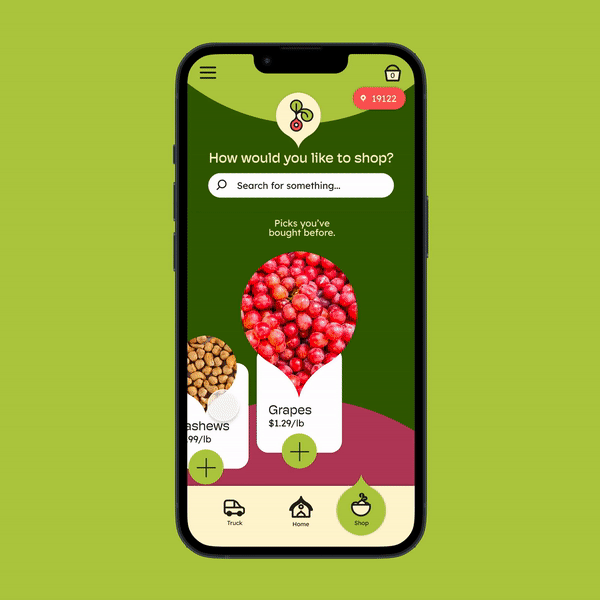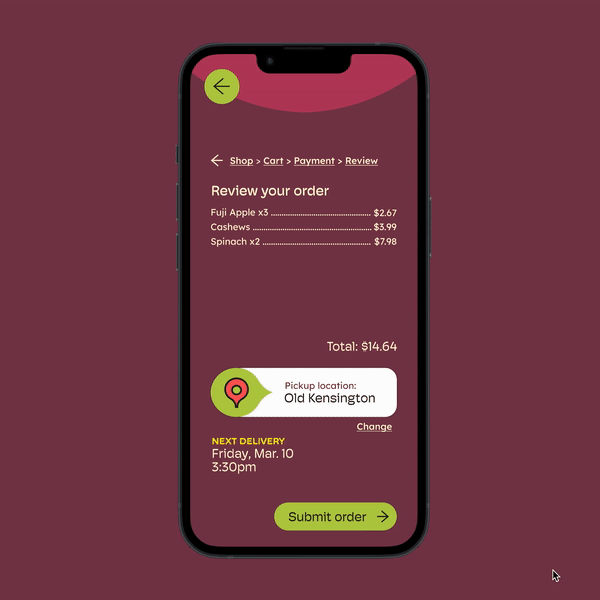 Packaging
The final brand is designed to maximize versatility and adaptability while minimizing production costs. Instead of printing directly on the package, a series of belly bands have been sized to fit on a variety of packages, a decision that reduces both costs and plastic waste. White space on the package label allows employees to print or handwrite the contents of each package, making it highly customizable. The most extravagant design decision is a simple die-cut that allows customers to see the contents of the package while also referencing brand imagery.
Truck & environment

Essential to the brand is a delivery truck that would travel to "bus stops" – areas strategically located at corner stores or other neighborhood food stapes – and drop off produce in refrigerated lockers. After reserving an order via the ReRooted app, customers would retrieve their produce from a locker at the nearest bus stop.
What I learned & next steps

Overall, the design for the ReRooted brand and UI taught me to flexibility and affordability to create an agile brand for a social impact company. The next step for this project would be a step towards making it a reality: broaching partnerships with corner stores in food deserts, conducting interviews and questionnaires with the product's target audience, and creating more models for the environmental design.

ReRooted is an exercise in creating design solutions that improve food access and tackle issues of wealth inequality. How could design create more opportunities to reduce food inequality? How can we change the culture around fresh food access so that those in low-income communities aren't limited to getting just the excess food?